Right off the bat there's something you should know there are so many more than five reasons to love us. Today we're going to tell you a little story about five things we love. Five things that help make our gelato what it is and keep our customers coming back for more.
"They're gonna tell us about five different flavours, right?" Ha ha, no! We're going to tell you about five different ingredients that make our authentic gelato unique and delicious. It's important to us that we offer our customers the best product we can, and we can only do that because….
1. We use top quality organic Jersey milk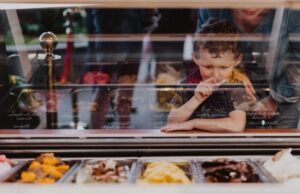 As you might remember from our article "What's the difference between ice cream and gelato?" gelato starts with a milk base. To get the best quality gelato, you have to start with the best quality milk. Our Jersey milk comes from Jersey Girl Organics, an award winning, sustainability focused, certified organic dairy farm based in Matamata.
The cows, known as the Jersey Girls, produce milk of an outstanding quality. But what makes this milk better than what you might get at the dairy? Above all else, it's the rich taste and incredible texture that lends itself particularly well to the artisanal gelato making process. But this milk is also better for you, with 30% more protein and 25% more calcium. Plus, it's completely free of the harmful chemicals that frequently contaminate milk produced through non-organic farming practices.
We love Jersey Girl Organics, not just for the superior milk, but for the way they respect the environment and treat the Jersey Girls with love and respect.
2. The vanilla bean we use is the best in the world
We use 100% pure Tahitian vanilla bean, regarded by many to be the best in the world and a long-time staple of Europe's most upmarket kitchens. The flavour and pungency are truly second to none, and this is what gives our Vanilla Bean flavour it's signature taste. And why it's such a popular option in our stores.
Sometimes the best is just the best and that's it. But there's more to it, of course. Growing vanilla is very labour intensive, and vanilla of this quality only grows very close to the equator. As a product we can't grow ourselves, it's important to us that it's attained in a non-exploitative way. Ours comes to New Zealand via Equagold, who have made a commitment to the communities who produce the vanilla to engage in fair trade.
What works for these communities also works for us, and the result is a Vanilla Bean gelato that's out of this world.
3. Couverture chocolate is… it's… it can't be expressed with words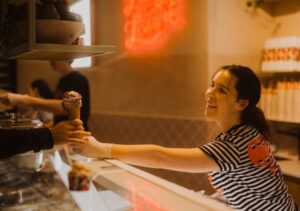 But that won't stop us trying! Let's see. It's considered to be of a very high-quality for two key reasons. The first is the increased percentage of cocoa butter – couverture chocolate has around 35%, compared to roughly 15% in your standard milk chocolate bar, this makes it considerably richer and tastier. Secondly, couverture goes through a far more intensive tempering process. Tempering is essentially stabilising the chocolate, giving it a smooth consistency that's absolutely ideal for pouring over a cup of gelato from our chocolate fountain.
Our couverture chocolate comes from Belgium, the chocolate capital of the world. Due to the artisanal chocolate making processes and the accumulated industry knowledge, the quality of Belgian chocolate just can't be matched by mass-produced alternatives here in New Zealand. This is chocolate that is perfectly smooth when liquid, with just the right firmness when solid, and we wouldn't have it any other way.
4. We grow a lot of ingredients ourselves on Waiheke Island
We're Waiheke Island locals, it's where we started Island Gelato and we still grow a lot of our produce there. Apples, plums, shiso, summer peach, kaffir lime, and feijoas, this delightful produce all comes from our own backyard. The beauty is, we know everything's grown without the aid of scary chemicals and we can hand pick each fruit, leaf, and stem to make sure only the best picks make it to our kitchen.
Waiheke is home to some incredible vineyards, and it's no secret that the soil composition is responsible for some of the finest local drops. With Waiheke wines being sold throughout New Zealand and the world, we think the products of our garden and orchard are right up there in esteemed company.
5. The citrus we use is grown with love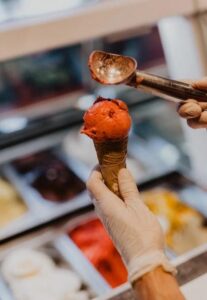 We get our oranges and mandarins from Twisted Citrus, a Gisborne-based orchard that rose to prominence by producing oranges of the juiciest variety and getting them out to their customers with a distribution model that favours freshness. Fruit is picked to order and delivered fresh to our kitchen, there's no storage, no processing, no waxing and no refrigeration. When they arrive, they are bursting with flavour and fragrance, straight off the tree.
We love Twisted Citrus because there's no sacrifice on quality. The only way we could source fresher oranges and mandarins would be to grow a few trees right outside the Island Gelato kitchen. Even then, we'd be hard pressed to produce anything that would rival the sweet, perfectly balanced and extraordinarily juicy fruit we get from Twisted Citrus and if it ain't broke, why fix it?
So, there you have it, whether it's the milk used in all of our dairy-based flavours, or a little something that gives an individual flavour it's unique charm – every ingredient we use is the best we can get our hands on. Quality is a compromise we'll never make, and we're quietly confident you'll be able to taste the results.