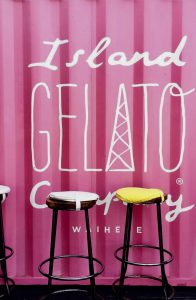 Its that Time of the Year when we batten down the hinges and close up for the 'Winter' months.
Island Gelato Waiheke closes its doors for a Final End of Season sale YES ALL GELATO MUST BE SOLD!
When:Monday 5th June- Queens Birthday Weekend
It's been such a crazy, busy, yet fruitful 2016/2017 season and yes its sad to say bye for now to our regular gelato/coffee and Bagel patrons, but we will Re-open early September as usual, refreshed and full of new delights for your taste buds.
On that note we do have some Super exciting news!!!, we are expanding our business into the City side and open our first brand spanking new flagship store in the iconic "FERRY BUILDING" SO FOR ALL OUR REGULAR CUSTOMERS! you can come find us in the city, bigger brighter and even more Sexy!
Thank you again for all your support, smiling faces and Hungry tums!