At Island Gelato Co, our people provide the passion. That means everything we do is fueled by the amazing energy our team brings to work every day. From our chefs to our scoopers, everyone is part of the Island Gelato Co family, and contributes to the quality experience we bring you with every scoop.
We're dedicated to serving up an awesome experience whenever you stop by an Island Gelato scoop shop. To that end, we're building the best team we can. Here's what we look for in our Island Gelato team, and what it means for you as our customer.
Island Gelato people are empowered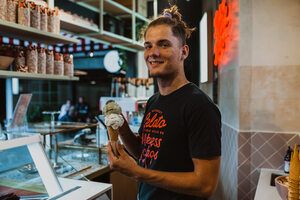 We're here to serve you scoops with a smile, and that means we do our best to ensure our team is empowered.
To us, empowerment means having the training and supportive environment to be your whole self and perform with confidence and competence. Everyone on our team brings their 'A' game and expertise with them to work .
Island Gelato people are passionate
We're all about creativity at Island Gelato Co, and where else does creativity come from if not passion?
We want our team to be passionate about hospitality, gelato and serving up smiles. To us, being passionate means showing a genuine interest in our products, customers and in-store experiences. Our team are enthusiastic about helping you, and share your excitement for our flavours.
Island Gelato people value relationships
Finally, we want our team to value and respect each other.
This means looking out for each other, picking up if someone stumbles and understanding we're all in this together. Valuing relationships, to us, means sharing a rapport and bringing a lively social energy to the workplace. It means being considerate of one another and taking responsibility for our own actions and how they impact others.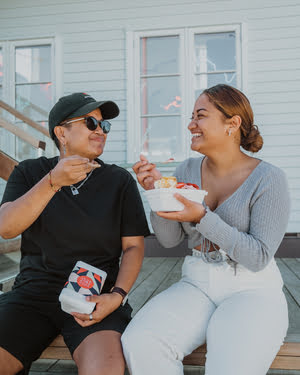 This extends to our customers too — Island Gelato people value every customer who walks through the door, and engage with a genuine interest. We want you to feel at home in our store, and that means caring about who you are.
It's not just our massive selection of creative, delicious and unique flavours that makes Island Gelato stand out. It's also our people and their commitment to bringing you the best experience possible every time you come into an Island Gelato Co store.
So what are you waiting for? It's Island Gelato time — see you in-store!