The old saying goes "less is more". That might be true when choosing fonts for a presentation, but when it comes to picking your flavours at Island Gelato more means more.
We make sure to use top quality ingredients in every scoop and craft our flavours to sing even louder when they're enjoyed together. Mix and match your favourite flavours for the best Island Gelato experience this summer.
The best flavour combo: Summer and Island Gelato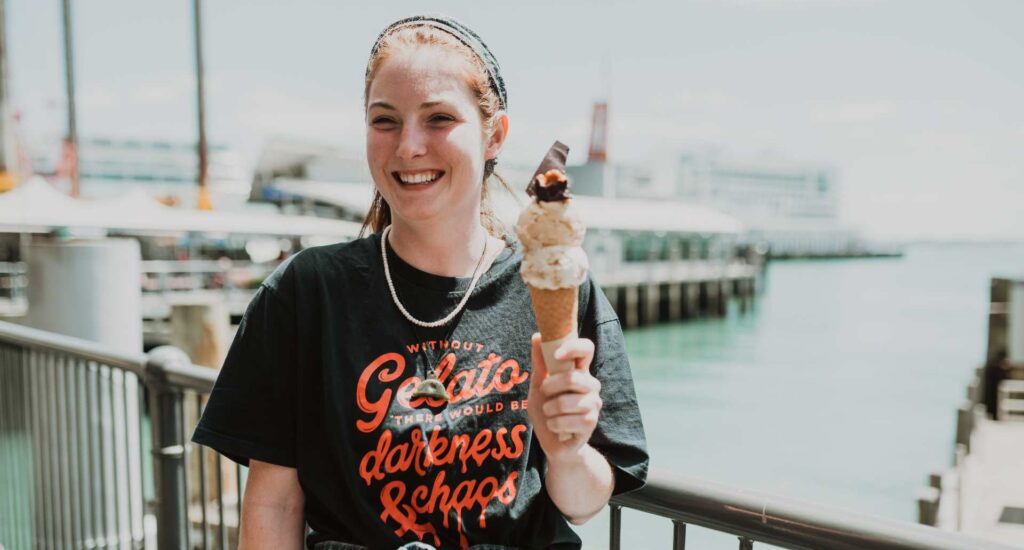 Some things in life just fit together naturally, like peanut butter and jam, wine and cheese or summer and fresh fruit!
At Island Gelato, we take that fresh seasonal fruit and turn it up to eleven, making stunning sorbets and gelatos. The quality of locally-grown produce makes a real difference to the flavour and feel of our creations, meaning you won't find sorbet or gelato quite like ours anywhere else.
A lot of the produce we use, from apples to plums and even shiso, comes right from our backyard on Waiheke Island. So we can trace our creations back to the seed, and treat every piece of fruit with love and respect — no nasty chemicals, handpicked and served from farm to table.
Everything we don't grow, such as our oranges, vanilla, chocolate and milk, comes from the best sources across the globe, so you can be sure all of our flavours are world class.
With every flavour, we work hard to figure out what combos make the best tasting treats — like lime and basil, or strawberry and balsamic. But one of the best parts about choosing your scoops at one of our Island Gelato shops is finding new flavour combinations we haven't tried yet.
Try these scrumptious scoop combos
Pineapple Mojito Sorbet with Coconut and Kaffir Lime
Waiheke Black Doris plum with yogurt lemon thyme shortbread.
Whiskey and chocolate, burnt caramel coconut and coffee affogato.
Grab a scoop of our pineapple mojito sorbet with coconut and kaffir lime for an extra bright, summery cocktail.
Or pair our uniquely Kiwi Waiheke Black Doris plum sorbet, with its deep robust sweetness, with yogurt lemon thyme shortbread to cut through the sweetness with tart bursts of flavour.
If you're in the mood for something a little deeper and darker, try a triple scoop with whiskey and chocolate, our burnt caramel coconut, and coffee affogato.
We have over 70 flavours on rotation across our Waiheke, Auckland CBD and Newmarket locations, so there's always new combinations to try.
Next time you're out and about — or even making a special trip, just for us — don't just stop at one flavour. Find your personal flavour combo at Island Gelato.